Popular experiences to enjoy on your holiday in New Zealand
Deciding which destinations are best to visit in New Zealand really depends on your particular interests. Renowned for pristine spaces, stunning alpine scenery, a wide range of outdoor activities and fascinating native wildlife, this country nurtures a rich arts and cultural scene too. Supported by art galleries and museums country-wide. Equally it offers quality and diversity in cuisine, gaining recognition for its red and white wines and craft beers. As New Zealanders love walking and hiking, there are lots of good trails for all abilities. The Routeburn and Abel Tasman Tracks are just two of the country's nine Great Walks which range from two to six-day adventures. There are plenty of opportunities to enjoy kayaking and sailing and more extreme sports, bungee jumping, jet boating and skydiving too. Along with skiing and snowboarding in winter. Not overlooking beach stays, stunning lake cruises and the chance to fish and play golf in many places.
Auckland, Wellington, Christchurch and Queenstown offer plenty to do by day and night too. With some fun festivals taking place year-round such as Splore in Auckland, WOMAD in New Plymouth, Wellington's International Arts and Fringe Festivals and Auckland's Pacifika. Here's our pick of top New Zealand experiences.
Wine tasting & tours
Marlborough is the most famous of New Zealand's wine regions, best-known for its Sauvignon Blanc. The area produces more than three-quarters of all the country's wine, with Pinot Noir and Chardonnay also grown in abundance here. It's nestled in the north-east corner of the South Island, underneath the shadows of soaring mountains in the Hinterlands near the coast, while gem-like islands sit just offshore. Blenheim is a popular place to base your stay, though you'll want to travel into the serene surrounding countryside to explore the many cellar doors. Hawke's Bay, located along the idyllic Te Awanga coast on the North Island, is the second largest wine growing region, with over 70 wineries in the area. One of the best ways to experience it is on bicycle, riding the trails that were specially designed to link towns and wineries.
Whale watching and dolphin swims
Kaikoura, a town on the east coast of the South Island, boasts a 95% chance of spotting whales throughout the year due to its very nutrient-rich marine environment. This is one of the world's only places where sperm whales are commonly spotted at any time, while humpbacks can be seen in June and July and orca whales inhabit the waters from December through March. You can also swim with dusky dolphins here year-round, a species known for their acrobatic abilities which makes for even more excitement.
Penguins
There are multiple destinations for viewing the country's penguins, though the Otago Peninsula on the South Island is one of the best, offering the opportunity to view rare yellow-eyed and blue penguins up close on a wildlife tour, along with fur seals and sea lions.


Sailing
The Bay of Islands is a top destination for sailing, located near the northern tip of the North Island. This subtropical micro-region includes some 140 islands with lots of sandy beaches and secluded bays to explore. It's also filled with abundant wildlife like dolphins and whales.
History
The Bay of Islands is not only popular for sailing, it's home to several of New Zealand's top historical sites, including the Treaty House in Waitangi. This is where the Waitangi Treaty was signed back on the 6th of February in 1840. It includes the Waitangi Treaty Grounds and the Museum of Waitangi which features a colonial museum, a Maori war canoe as well as cultural performances. The town of Russell just across the bay enjoys a picturesque setting along the sea along with multiple historic buildings as New Zealand's very first European settlement. Once referred to as the "hell hole of the Pacific" with its early days filled with violence, today it has a peaceful atmosphere with streets arranged in the original layout lined with charming cafes, restaurants and art galleries.
Indigenous culture
There are many ways to delve into the country's indigenous culture, but attending a Maori gathering is really a must-experience. In Rotorua on the North Island, the Tamaki Maori Village hosts a Maori cultural performance and hangi, complete with a delicious feast. This is a living village where you can experience the activities of days gone by, like carving, weaving, tattooing and demonstrations on how food was cooked and preserved here for centuries. Chat with some of the indigenous people, join in on warrior training and stick games, perform the haka and learn the poi.


Lord of the Rings sites
The 'Lord of the Rings' trilogy is what truly put New Zealand on the map among travellers. If you're a fan, you may want to visit some of the filming sites, with one of the top attractions found in Matamata on the North Island, two hours south of Auckland. Hobbiton Village is made up of the Hobbiton set used in both J.R.R. Tolkien's 'Lord of the Rings' and 'The Hobbit.' Visit the Hobbit holes and the Green Dragon Inn, the Hobbits favorite meeting spot, where you can sip Hobbit ales, ginger beer or apple cider. Guided tours are available bringing the chance to learn insider secrets too.
Geothermal activity
New Zealand has many geothermal features from volcanoes and volcanic lakes to geysers and hot springs. The Taupo Volcanic Zone in the North Island's central area is particularly active. Head to the Waimangu Valley of Rotorua to discover the country's ultimate thermal wonderland. This valley was completely reshaped during the 1886 Mount Tarawera eruption, covering three Maori villages with ash and lava. Organized tours are available to take visitors along the shores of Lake Rotomahana, past the inactive Waimangu Geyser to view Cathedral Rocks, Warbrick Terrace and the Waimangu Cauldron, a 4-hectares lake filled with steaming hot water.
Glaciers
Franz Josef glacier on the South Island is one of the world's most accessible glaciers. Here you can join a hiking tour that leads right up to the foot of this massive glacier, or, for an especially unforgettable way to marvel at it, take a helicopter flight for a bird's-eye view, and then land right on it to walk across.
Outdoor adventure and thrill sports
New Zealand is famous for its thrill sports, and Queenstown is considered its 'Adventure Capital.' This is where bungee jumping was birthed, with the daring throwing themselves off Kawarau Bridge since 1988. If that sounds a little too extreme, this is an ideal region for hiking scenic trails that lead to gorgeous turquoise lakes while winding through towering snow-capped mountains. It's also popular for white-water rafting and the country's famous jet boat tours. Hop on the Shotover Jet for a unique ride whizzing through narrow, dramatic canyons and heart-pounding full 360-degree spins on Shotover River while battling the currents at speeds of nearly 60 miles per hour.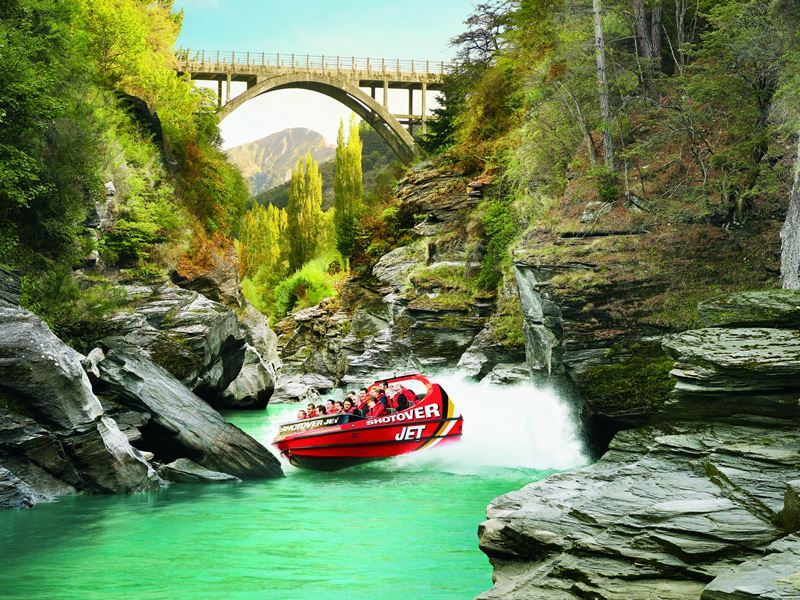 Find your perfect holiday
Talk to our friendly team
01342 310 581
Call us 9am-7pm Mon-Fri / 9am-5pm Sat-Sun